Real People
Want to know more about one of the real people who appear in my books? They're all listed below.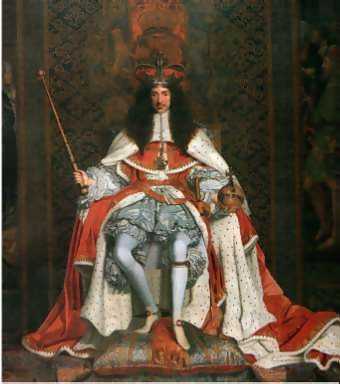 Charles II
(1630–1685)
Appears in steamy books Amethyst, Emerald, Amber, and Rose
Appears in Sweet & Clean books The Earl's Unsuitable Bride, The Marquess's Scottish Bride, The Duke's Reluctant Bride, and The Gentleman's Scandalous Bride
The son of Charles I, Charles II was a popular King and a patron of the arts and sciences.  He was born in St. James's Palace, London, in 1630.  During the Civil War he lived with his father at Oxford, and after the victory of Cromwell's Parliamentary forces he withdrew to France.  Accepting the Covenanters' offer to make him king, he landed in Scotland in 1650 and was crowned at Scone January 1, 1651.  An attempt to invade England ended that September by Cromwell's victory at Worchester.  Charles escaped, and for nine years he wandered through France, Germany, Flanders, Spain, and Holland until 1660, when he was invited back to England as King.
Charles acknowledged nine sons and five daughters, although it is assumed that he had more.  His first child, James de la Cloche, was born in France in 1646 to Marguerite de Carteret, when Charles was all of sixteen.  James became a Jesuit priest. His favorite child, James Scott, Duke of Monmouth, was born to Lucy Walter while Charles was in exile at The Hague, Netherlands, in 1648.  Monmouth was beheaded after Charles's death in 1685, following an unsuccessful claim on the crown.  Other mistresses who bore him children include Elizabeth, Lady Shannon; Catherine Pegge, Lady Greene; Barbara Palmer, Duchess of Cleveland; actress Nell Gwyn; Louise de Keroualle, Duchess of Portsmouth; and actress Moll Davis.
Sadly, Queen Catharine never did present him with legitimate offspring, but at long last a descendent of his is poised to sit on the throne, since Princess Diana and her sons are descended from Charles II and Barbara, through their son Charles Fitzroy, Duke of Grafton, born in 1663.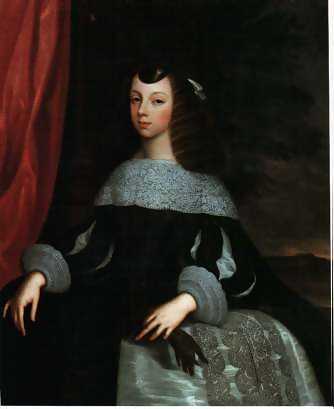 Catharine of Braganza
(1638–1705)
Appears in steamy books Amethyst, Amber, and Rose
Appears in Sweet & Clean books The Earl's Unsuitable Bride, The Duke's Reluctant Bride, and The Gentleman's Scandalous Bride
The daughter of John IV of Portugal, Catharine brought the Portuguese possessions of Bombay and Tangier as her dowry when she married Charles in 1662.  She introduced tea drinking and citrus fruits to England.  Her childlessness and practice of her Catholic faith were unpopular, but Charles resisted the pressure for divorce.  Following his death in 1685, she returned to Lisbon in 1692.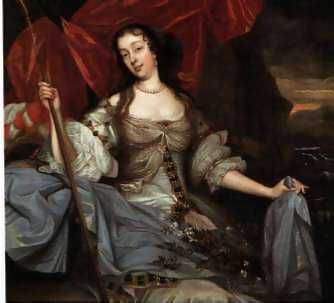 Barbara, Countess of Castlemaine
(1641–1709)
Appears in steamy books Amethyst and Amber
Appears in Sweet & Clean books The Earl's Unsuitable Bride and The Duke's Reluctant Bride
Kit builds Lady Castlemaine's palace apartments in Rose and The Gentleman's Scandalous Bride
Barbara Villiers Palmer, Countess of Castlemaine (and later, after the story takes place, the Duchess of Cleveland) was King Charles II's mistress off and on for at least ten years. She bore him four sons—all of which he created Dukes—and a daughter. Charles granted lifetime annuities of £6000 a year for Barbara and £3000 for each of their sons. These were amazing sums at the time and more than he granted any other mistresses or children, yet he must have known Barbara had many other lovers.
Among Barbara's conquests were Philip, Lord Chesterfield; courtier Henry Jermyn; actor Charles Hart; a rope dancer named Jacob Hall; playwright Will Wycherly; Jack Churchill, Duke of Marlborough (one child); John Sheffield, Earl of Mulgrave; Henry Savie, Groom of the Bedchamber to the King; Ralph Montagu, Ambassador to France; the Marquis de Châtillon; and actor Cardonnel Goodman; and General Robert Fielding, whom she eventually married. Busy lady!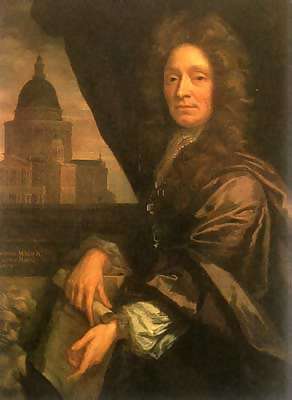 Christopher Wren
(1632–1723)
Appears in steamy books Violet and Rose
Appears in Sweet & Clean books The Viscount's Wallflower Bride and The Gentleman's Scandalous Bride
Christopher Wren was born in Wiltshire in 1632, the son of the Dean of Windsor. As his father was the King's chaplain, Wren spent his early life at Windsor Castle. As a child he played with the King's son, who later became Charles II.
He had a private tutor in his early years, then was sent to Westminster School in London. As his family was staunch Royalists, his schooling was interrupted by the English Civil War, but he eventually entered Wadham College, Oxford, in 1649. He was elected a fellow of All Souls, Oxford, in 1653 and lived there until 1657, when he became Professor of Astronomy at Gresham College, London, at the age of 25.
Although Wren is best known for architecture, he was first a scientist. He worked on anatomy, making drawings of the brain and devising the first blood transfusion method. Among other inventions, he developed instruments for measuring angles and surveying, machines to lift water, ways to find longitude and distance at sea, a pneumatic engine, an instrument to copy handwriting, and a machine for knitting nine pairs of stockings simultaneously. In 1661, at the age of 27, he became Savilian Professor of Astronomy at Oxford and held this post until 1673. During this period he made important contributions to mathematics.
Wren was part of the scientific discussion group at Gresham College that eventually became the Royal Society. In addition to being a founding member, he was the Society's president from 1680 to 1682.
Wren's opportunity as an architect came after the Great Fire of London in 1666, when he was commissioned to rebuild 51 churches and St. Paul's Cathedral. He also built the Sheldonian Theatre and Tom's Tower at Christ Church, Oxford, the library at Trinity College, and the Royal Hospital at Chelsea. In 1669, Charles II appointed him Surveyor General of the King's Works, making him responsible for supervising all work on the royal palaces.
That Wren was an affable man is proved by the fact that he remained lifelong friends with some of the most difficult personalities of his time, including Robert Hooke, Isaac Newton, and John Flamsteed. He was knighted in 1673 and died in London in 1723 at the ripe old age of 90. Buried in St. Paul's Cathedral, his grave is marked by a Latin sign that translates as, Reader, if you seek his monument, look around you.
Sir Christopher's riverside house in Windsor appears in Rose and The Gentleman's Scandalous Bride, and there are pictures of it on the Real Places page for those books.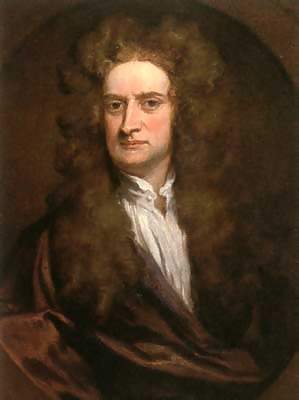 Isaac Newton
(1642–1727)
Appears in steamy book Violet
Appears in Sweet & Clean book The Viscount's Wallflower Bride
Isaac Newton was born on Christmas Day 1642 in the manor house of Woolsthorpe in Lincolnshire. Newton came from a wealthy family of property owners and farmers, but he never knew his father, who died three months before he was born. He attended the Free Grammar School in Grantham, where he was described as idle and inattentive. The headmaster must have seen promise, though, because he convinced Newton's mother to let him attend Trinity College in Cambridge.
While Newton is best known for discovering the Law of Gravity, he also created calculus, discovered that white light is composed of all the colors, and developed the three standard laws of motion that are still in use today. Despite these discoveries and more, it is said that he spent most of his time concentrating on alchemy experiments.
Newton was elected a fellow of the Royal Society in 1672, after donating a reflecting telescope. He was elected its president in 1703 and knighted in 1705. He died in 1727 and is buried in Westminster Abbey.

Robert Hooke
(1635–1703)
Appears in steamy book Violet
Appears in Sweet & Clean book The Viscount's Wallflower Bride
Robert Hooke was born in 1635 on the Isle of Wight. The son of a priest, he attended school in Westminster and then Christ College, Oxford. At Oxford he was employed by Robert Boyle to construct an air pump. In 1660 he discovered Hooke's Law of Elasticity and is now considered the foremost mechanic of his time. His many inventions included a telegraph system, the spirit level, a marine barometer and sea gauge, and the balance spring, which made more accurate clocks possible.
In the year 1665, Hooke achieved worldwide scientific fame with the publication of his book Micrographia, containing beautiful drawings of objects he had studied through his self-built microscope. The book also contains biological discoveries; for example, Hooke coined the word cell.
Hooke was elected to the Royal Society in 1663 and became its curator for the rest of his life. He was Professor of Geometry at Gresham College, London, and lived there as a bachelor until his death in 1703.
The only known portrait of Robert Hooke, which hung in Gresham College, mysteriously disappeared shortly after his death. This is a picture of his memorial window in St. Helen's Bishopsgate, which, sadly, has since been destroyed.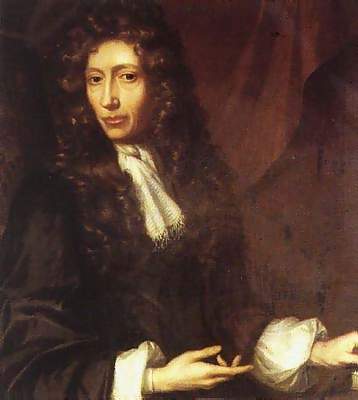 Robert Boyle
(1627–1691)
Appears in steamy book Violet
Appears in Sweet & Clean book The Viscount's Wallflower Bride
Born in County Waterford, Ireland, in 1627, Robert Boyle has been called the Father of Modern Chemistry. The youngest of fourteen children of the wealthiest man in the British Isles, Boyle attended Eton and then traveled the Continent with an older brother and a tutor, studying philosophy, religion, languages, mathematics, and the new physics of Bacon, Descartes, and Galileo. Unlike most scientists of his time, he was more swayed by the new theories than by the alchemists.
In 1654, Boyle joined a small group of scientists, mathematicians, philosophers, and physicians who met weekly in Oxford and London. In 1662 the group was chartered as the Royal Society, with Boyle a founding member. That same year, he formulated Boyle's Law. He also developed the vacuum pump and is credited with being the first scientist to perform controlled experiments—a founder of the modern scientific method.
Boyle died in London in 1691, having never married. A man with deep religious convictions, he left most of his considerable estate to charitable organizations.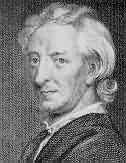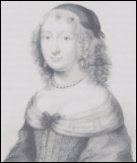 John and Mary Evelyn
Appears in steamy book Violet
Appears in Sweet & Clean book The Viscount's Wallflower Bride
Born in Surrey in 1620, John Evelyn is best known for his life-long diaries that have given us such a good picture of life in the 17th Century. Evelyn lived through the Civil War, the Commonwealth, the Restoration, the reigns of Charles II and James II, the Glorious Revolution of 1688, the reigns of William III and Mary II, and part of the reign of Anne—and he recorded it all.
Although a second son, Evelyn was born into an extremely wealthy family. He never wanted for anything and was known as a very critical and egotistical man. Along with his diary, he wrote some 300 other books. He declined all offices under the Commonwealth, but after the Restoration enjoyed great favor, received Court appointments, and was one of the founders of the Royal Society.
Mary Evelyn was the beloved only daughter of Sir Richard Browne, Charles I's ambassador to Paris. Raised in France, she was highly educated and married reluctantly to Evelyn in 1647, at the age of only thirteen, when he was in Paris with King Charles II's exiled Court. Evelyn was twice her age, and although his diaries reveal that he loved her, he treated her rather parentally. He allowed her to continue her studies, but insisted that housekeeping should have first priority over everything else in her life.
It was a man named Ralph Bohun, her son's tutor, who first encouraged Mary to take up scientific experimentation in her still-room. A supportive cousin and her brother-in-law both sent her supplies, and the resulting receipts (recipes) survive in the Evelyn's household receipt book. After spending six years in their home, Bohun returned to Oxford, but he and Mary kept up a lifetime correspondence, and he shared her letters and observations with the great men of Oxford and the Royal Society. Although she was denied public participation in intellectual life, through Bohun she was able to maintain links with it.
John Evelyn died in 1706 and Mary three years later. They were both buried in Wotton church, where in 1992 their tombs were broken into and their skulls stolen. The tragic mystery of why or how has yet to be solved.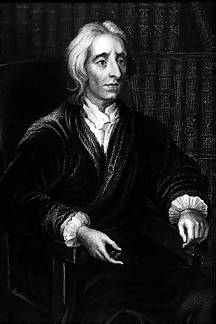 John Locke
(1632–1704)
Appears in steamy book Violet
Appears in Sweet & Clean book The Viscount's Wallflower Bride
John Locke was born in Somerset in 1632, to the son of a captain of horse in the parliamentary army. The Civil War does not seem to have disrupted his education, as he entered Westminster School in London in 1646 and Christ Church, Oxford in 1652. The official studies of the university were not congenial to him; he preferred Descartes' philosophy to Aristotle's. But nonetheless he persevered and eventually earned a degree as a doctor of medicine.
Locke was elected a fellow of the Royal Society in 1668. In later life he published many works on philosophy, politics, theology and economics, including Essay concerning Human Understanding, Two Treastises on Government, Letters on Toleration, and Some Thoughts concerning Education. He helped to form contemporary ideas of liberal democracy and greatly influenced American politics.
Locke postulated that all governments derive their authority from popular consent (a contract with the people), so that government may be rightly overthrown if it infringes on such fundamental rights of the people as religious freedom. He believed that at birth the mind is a blank, and that all ideas come from sense impressions. He believed strongly in religious toleration and argued for a separation between church and state. Thomas Jefferson called Locke one of the three greatest men that have ever lived, without any exception, and drew heavily on his writings in drafting the Declaration of Independence.
During the last eight years of his life, Locke became severely asthmatic and couldn't bear the smoke of London. He retired to Essex where he died in 1704 at the age of 72.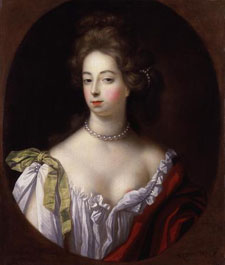 Nell Gwyn
(1650–1687)
Appears in steamy book Rose
Appears in Sweet & Clean book The Gentleman's Scandalous Bride
Never in English history has another Royal mistress been as popular as pretty, witty Nell Gwyn. Whether Nell was actually born in a brothel is open to question, but legend has it she came into the world in Drury Lane in February, 1650. As a young girl, Nell sold oranges at the Theatre Royal and began as an actress there in 1665. Charles II saw her on stage, and by 1668 she became his mistress. Nell bore the King two sons, Charles in 1670, later the Duke of St. Albans, and James in 1671. Nell was quite possibly the only one of Charles's mistresses who actually loved him, and he never tired of her. On his deathbed, his last request to his brother (James II) is said to have been let not poor Nelly starve.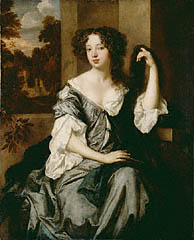 Louise de Kéroualle, Duchess of Portsmouth
(1649–1734)
Appears in steamy book Rose
Appears in Sweet & Clean book The Gentleman's Scandalous Bride
Of all Charles II's mistresses, Louise de Kéroualle was most disliked. Born in 1649 in France, Louise first came to England in 1670 as a maid of honor to Charles's sister, Henrietta. Charles's interest was apparent, and when Henrietta died later that year, Louise returned to London and was established as the King's mistress, receiving Louis XIV's congratulations on her success. After giving birth in 1672 to another of Charles's sons named Charles, later the Duke of Richmond, she was created the Duchess of Portsmouth. Though Louise's unpopularity was due mostly to her being French and Catholic, she was also known to be wildly extravagant with the King's money. Her apartments at Whitehall were rebuilt three times, and John Evelyn said they had ten times the richness and glory beyond the Queen's.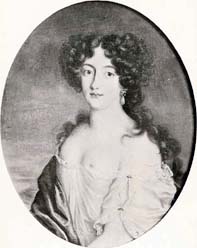 Hortense Mancini, the Duchess Mazarin
(1646–1699)
Appears in steamy book Rose
Appears in Sweet & Clean book The Gentleman's Scandalous Bride
Hortense Mancini, the Duchess Mazarin, was one of five Italian sisters all noted for their great beauty. Two of them became mistress to Louis XIV. Born in Rome in 1646, Hortense moved to France at an early age. Charles II proposed to her while there, but her uncle, Cardinal Mazarin, did not think the exiled king's prospects were good. She later married and then left her husband, arriving at Charles's Court in 1675 and becoming his mistress shortly thereafter. Considered an adventuress, she was known for her compulsive gambling, her great skill with guns and swords, and her inclination to wear men's clothing.
Henry Fuseli
(1741–1825)
Appears in steamy book The Art of Temptation
Appears in Sweet & Clean book Corinna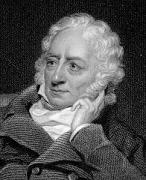 The son of a portrait painter, Henry Fuseli was born in Switzerland and trained in theology as well as art and art history. He moved to England at the age of 23, and then, encouraged by Sir Joshua Reynolds, went to Italy to study for eight years. Upon his return to London, his works exhibited at the Royal Academy secured his reputation. His subject matter was mainly literary, and his most famous works, such as The Nightmare, featured macabre fantasies and often erotic or grotesque images. He was elected a full Academician in 1790 and taught painting at the Academy from 1799-1805.
Quote: Our ideas are the offspring of our senses.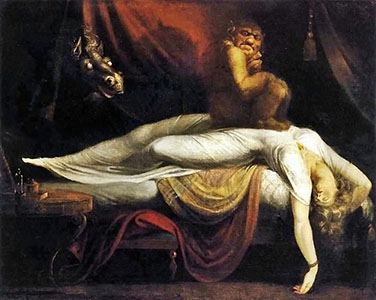 Henry Fuseli's The Nightmare.
William Mulready
(1786–1863)
Appears in steamy book The Art of Temptation
Appears in Sweet & Clean book Corinna
The son of a leather breeches maker, William Mulready moved from Ireland to London at the age of five, and at fourteen he was admitted to the Royal Academy schools. His early works were historical paintings and landscapes, but later works inspired by the seventeenth century Dutch masters won him critical acclaim. Mulready married Elizabeth Varley, a landscape painter, and they had four sons, two of whom went on to be painters themselves. Mulready was elected a full Academician in 1816.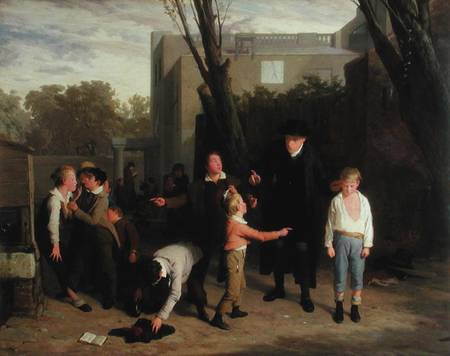 William Mulready's The Fight Interrupted, shown in the Summer Exhibition of 1816.
James Northcote
(1746–1831)
Appears in steamy book The Art of Temptation
Appears in Sweet & Clean book Corinna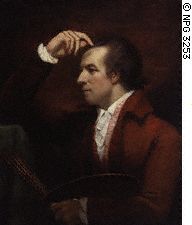 Born and raised in Plymouth, James Northcote was apprenticed to his father, a poor watchmaker, but drew and painted in his spare time. At age 23, he left his family and set himself up as a portrait painter. Four years later, he moved to London, where Sir Joshua Reynolds accepted him as a student and assistant. At the same time, he attended the Royal Academy schools. When his formal training ended, he traveled to Rome for three years, then returned and established himself as a painter of history scenes and portraits. Elected a full Academician in 1787, his works eventually numbered about two thousand, which made him a fortune of £40,000. Northcote also sought fame as an author, publishing the popular biographies Life of Reynolds and Life of Titian.
Quote: Half the things that people do not succeed in are through fear of making the attempt.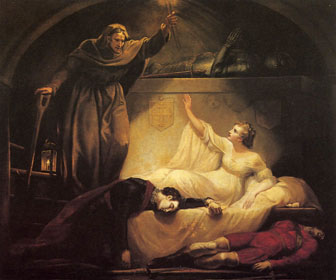 James Northcote's painting, depicting the last scene of Romeo & Juliet.
Sir Martin Archer Shee
(1769–1850)
Appears in steamy book The Art of Temptation
Appears in Sweet & Clean book Corinna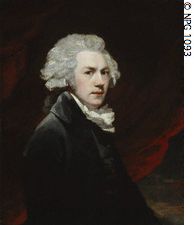 Sir Martin Archer Shee's father, a wealthy merchant from an old Irish family, thought painting an unsuitable occupation for his son. Nevertheless, Shee studied art in the Dublin Society and then made his way to London, where Joshua Reynolds suggested he study at the Royal Academy. Principally a portrait painter, he was popular in court and theatrical circles and won many royal commissions. Shee was elected an Academician in 1800 and served as its president from 1830 until his death in 1850.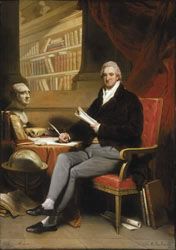 Portrait of William Roscoe by Sir Martin Archer Shee.
J.M.W. Turner
(1775–1851)
Appears in steamy book The Art of Temptation
Appears in Sweet & Clean book Corinna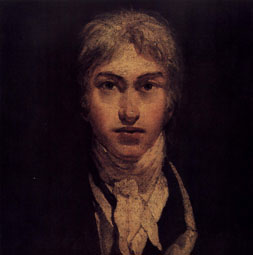 Self-portrait of J.M.W. Turner.
Joseph Mallord William Turner was born in Covent Garden, London, to a barber and wig-maker father and a mentally ill mother. Because of his mother's instability, he was sent to live with an uncle, but his father displayed his young son's pictures in his shop window. Turner entered the Royal Academy of Art schools in 1789, when he was only 14 years old. Sir Joshua Reynolds, president of the Royal Academy at the time, chaired the panel that admitted him. One of Turner's watercolors was accepted for the Summer Exhibition of 1790 after only a single year's study. He exhibited his first oil painting in 1796 and continued exhibiting at the Summer Exhibition nearly every year for the rest of his life. He was elected a full Academician at the age of 29.
Although best known for his oils, Turner was also a great master of watercolor landscape painting. He is commonly known as the painter of light, and it is claimed his style laid the foundation for Impressionism. Upon his death, Turner was buried in St Paul's Cathedral at his request, where he lies next to Sir Joshua Reynolds.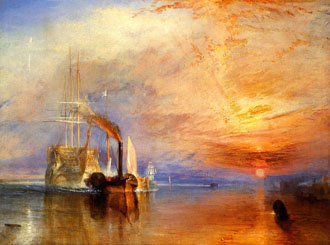 The Fighting Téméraire by J. M. W. Turner, 1838.
Benjamin West
(1738–1820)
Appears in steamy book The Art of Temptation
Appears in Sweet & Clean book Corinna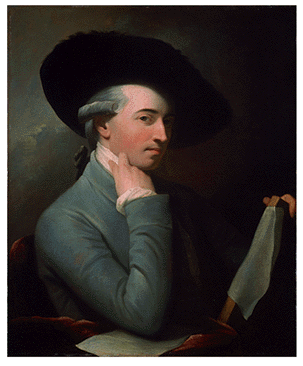 Self-portrait of Benjamin West.
A founder of the Royal Academy when it was formed in 1768, Benjamin West was born in the United States, the tenth child of an innkeeper. He taught himself painting in his hometown of Philadelphia, where he claimed Native Americans showed him how to make paint by mixing some clay from the river bank with bear grease in a pot. As a young man, he established himself as a portraitist in New York City before leaving for Europe. At the age of 22, he sailed to Italy and traveled to most of its art centers over a three-year period, then settled in London. After catching the eye and patronage of King George III, he no longer needed to paint portraits for a living, and instead became acclaimed for his large scale historical paintings. In these paintings, which he termed epic representation, he clothed his figures in the costume of their period rather than traditional classical garb. Although this was controversial at first, it eventually won him great fame and popularity.
West served as the Royal Academy's president from 1792 to 1805 and again from 1806 until his death in 1820. He was a close friend of Benjamin Franklin, and Franklin was the godfather of his second son. Although West never returned to the United States, his work had considerable influence on U.S. art in the 19th century.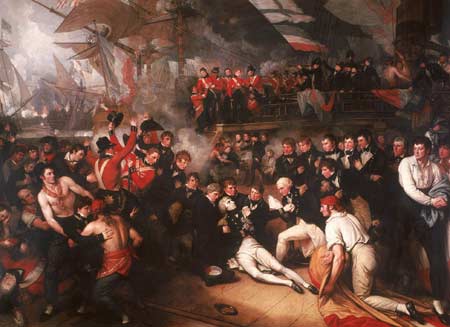 Benjamin West's The Death of Nelson, 1806.