Biography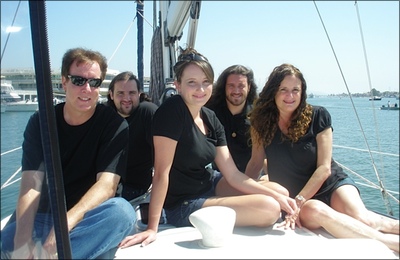 A recent photo of my family. (Can you tell we love to sail?)
Left to right: my husband Jack, my son Brent, my daughter Devon, my son Blake, and me.
I decided to become a writer in the third grade (or, as my Canadian friends call it, grade three), after winning a
Why My Mother is the Greatest
essay contest and having my entry published in a major newspaper. Seeing my words in print was a thrill! But everyone told me it's too hard for novelists to get published, so after college I spent fourteen years as the CEO of my own jewelry store chain before writing my first book. A mistake? Maybe…but my first heroine, Amethyst, was a jeweler, so at least I took advantage of that wise old saying,
Write what you know.
And I learned a good lesson: Don't let other people tell you what you can or can't do!
I write humorous historical romance mostly set in England and Scotland in the 17th and 19th centuries (Restoration and Regency periods). I've been oh-so-lucky to see my books hit bestseller lists all over the world, including the New York Times and USA Today lists, making this second career a real dream come true. I live in Southern California with my husband, our three young adult children, and one constantly shedding cat, and I still think my mother is the greatest!
To read more about me (although I can't imagine why you'd want to), check out these interviews:
To email me, visit the E-Mail Lauren page.  I love to hear from readers, and I answer all my mail, although if I'm on deadline it often takes longer than I'd like.

Facts & Favorites
from readers' questions
Date and Place of Birth

March 3, Hollywood, California

Pet

Mocha Frappuccino, a Birman cat

Candy

American: Milky Way Dark (frozen is best!) and those little colored dots you peel off a strip of paper
British: Crunchie

Romance novel

A Knight in Shining Armor by Jude Deveraux

Other books

The Pillars of the Earth and World Without End by Ken Follett (actually, pretty much everything by Ken Follett)
This Perfect Day by Ira Levin
Time Enough for Love by Robert A. Heinlein
Anthem by Ayn Rand
Outlander by Diana Gabaldon
The Bronze Horseman and Tatiana and Alexander by Paullina Simons

Sports

Ice hockey, gymnastics, figure skating, baseball, and anything during the Olympics! (Please note: I watch these sports.  You'd laugh if you saw me try to do them.)

Teams

Anaheim Ducks, Anaheim Angels

Food

Prime rib, artichokes, crème brûlée

Drink

Iced tea, Otima port

Color

Red—the brighter the better!

Collections

Antique books and original set lists from concerts I've been to

Dream car

Jaguar convertible

Actual car

Dodge minivan

Movies

Braveheart, Private Benjamin, The Thomas Crown Affair, The American President, When Harry Met Sally, True Lies, Ever After, Love Actually, Pride and Prejudice (2005 version), The Holiday, Crazy Stupid Love

Play

Les Misérables

Music

Rock 'n roll, Celtic, Renaissance (but not classical!)

Musical artists

Check my Links page—they're all there!
Email me if you want to know another fact or favorite!